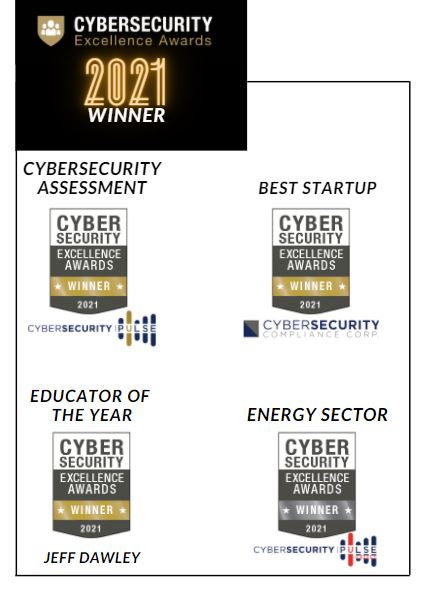 Whitby, Ontario, March 3, 2021 – The Cybersecurity Compliance Corp. team spent 2020 virtually meeting with small and medium sized businesses as well as industry leaders to spread their message about cybersecurity awareness and the Cybersecurity Pulse™ solution. The company is pleased to share that those efforts have been recognized through the 2021 Cybersecurity Excellence Awards:
Gold Winner: Cybersecurity Assessment- North America (between 1 to 9 employees)
Gold Winner: Best Cybersecurity Startup- North America (between 1 to 9 employees)
Gold Winner: Jeff Dawley- Cybersecurity Educator of the Year- North America
Silver Winner- Energy Sector
Receiving the Gold Award in the Cybersecurity Assessment category is a testimony to the Cybersecurity Pulse™ solution and its ability to deliver a true evaluation of business risk and a roadmap for improvement. The development team and founders have loaded their user-friendly tool with valuable, practical guidance and are committed to continue to add value to clients through new tools and services.
Winning the Best Cybersecurity Startup Gold Award is a well-deserved reward for a team of tireless professionals who are dedicated to raising the cybersecurity bar for smaller companies. "Our team is small and cohesive. We work as one solid unit and even though 2020 has forced us to stay apart, we worked so hard to keep it together. I'm proud of the effort everyone has put in," said Rob Blondin, the team's National Channel Account Manager.
"We are so honored that Cybersecurity Compliance Corp. was named in a lineup of innovative and deserving companies who are doing such great things for the information security industry," said Cybersecurity Compliance Corp. president Jeff Dawley. "Our entire team would like to congratulate all the winners in all the categories. We look forward to continuing to promote framework-based assessments as starting points for all cybersecurity programs, working with information security professionals from around the world, and raising cybersecurity awareness across all organizations."
The Cybersecurity Excellence Awards are an independent awards program that honors companies and individuals that demonstrate excellence, innovation, and leadership in information security. The finalists and winners were selected based on the strength of their nomination and the popular vote. The awards are produced by Cybersecurity Insiders in partnership with the information security community on LinkedIn, tapping into the vast experience of over 400,000 cybersecurity professionals to honor the world's best cybersecurity products, professionals, and organizations.