Creating a cybersecurity compliance strategy ensures the integrity, confidentiality, and accessibility of information that is processed, transferred, or stored by a given firm. Compliance differs for every firm depending on location and industry, Given the ever-changing nature of our online landscape, compliance needs to be assessed on an ongoing basis.
Let us help you achieve your compliance goals: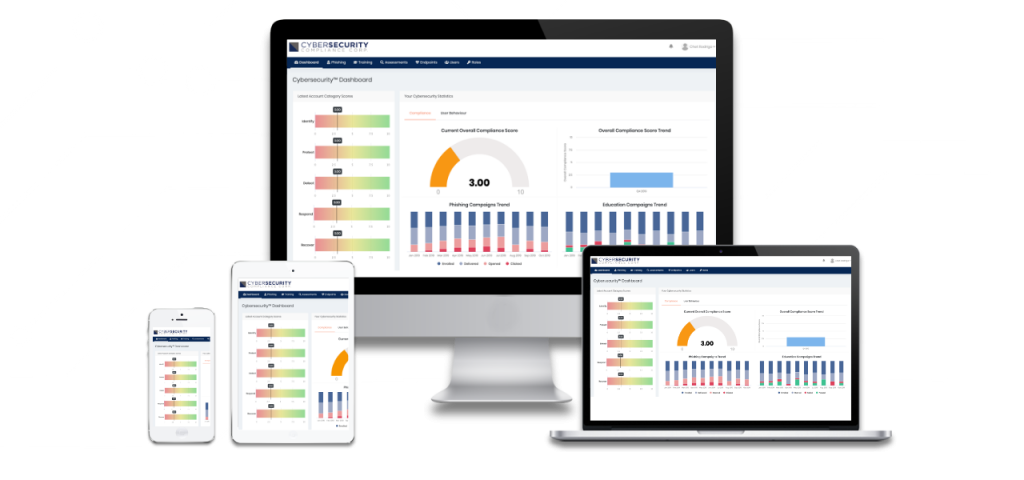 We take the guesswork out of compliance
Cybersecurity compliance can feel daunting and tricky.  When you partner with us, we change that. We provide a 1-2 day full assessment of your cybersecurity environment that includes staff interviews, log and documentation reviews, system reviews, analysis of external vulnerabilities, and more to uncover your cybersecurity priorities.  We also work remote and on-site depending on the needs of your business.
Ongoing management is key
Cybersecurity compliance isn't static – as technology evolves, so does compliance. That's why we provide ongoing cybersecurity monitoring and management at no extra charge. This includes access to dynamic tracking of education and phishing campaigns, remediation planning, and dashboard tracking. With these services, you can see which employees or departments need prioritizing during further education and assessments. This helps you maintain or improve your compliance score over time.
Following the initial assessment, we provide repeat white-glove reassessments and remediation on a monthly or quarterly basis depending on your business needs. With this system, you're never left questioning the state of your cybersecurity environment.
Currently Supported Frameworks: